November 2002 Projects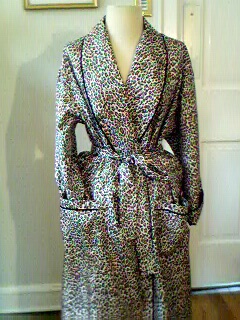 I made this robe for my mother, for Christmas. It is McCall's 3019, and I really like how it turned out. It's nicely fitted, for a robe (not way oversized and sloppy), and has a set-in sleeve, which hangs very nice. I added the black braid, for some contrast, as the print is quite busy.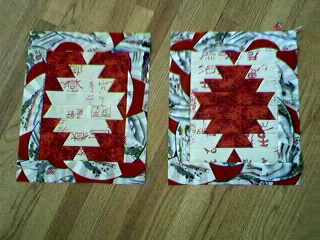 These two doll quilt tops were made for Operation Christmas Child. I finshed them off by birthing them with some dark red flannel, and stitching in the ditch around the lantern and border. Then I wrapped a Beanie Baby in the little quilt, and put it in the shoebox, along with many other goodies.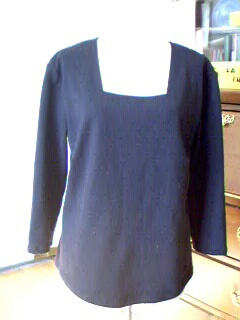 Another Thia Tee by La Fred. This one is out of a hemp/cotton knit I bought at Hemptraders. I had enough to also cut out a pair of Euro Pants, by Loes Hinse. They just need the elastic put in the waist.

Here is the To The Point coat, by The Cutting Line. It is made from a wool challis that I bought at Canvasbacks. You can read my review of it here. Ignore the odd look on my face -- I was talking to DH while he was taking the picture.

Back to Main Page
or
Browse through the Bridal
Take a gander at Outerwear
Check out my Quilts
Take a look at my Nursing Clothing
See my other Stuff
© 2002 mamafitz@ameritech.net